Australia's smallest state, Tasmania packs a punch and has loads to offer.
Pristine beaches, gorgeous mountains, rugged coastline, historic towns, hiking, wildlife and a terrific wine and food industry that will make your taste buds EXPLODE.
Let the journey begin:
1. Hobart
Hobart is enchanting, inviting, walkable, and one of Australia's oldest cities with plenty to do in and around the area. The history remains living with its 19th Century sandstone warehouses which currently function as cafes, restaurants and artists' studios.
The most beautiful part of Hobart is the backdrop of Mount Wellington rising over the city and the River Derwent flowing through its centre. And then there's the unbelievable MONA museum.
2. Russell Falls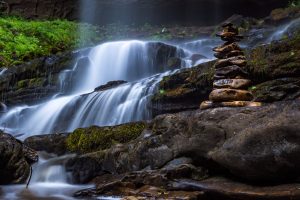 Tasmania's first national park filled with magnificent scenery, a fantastic assortment of walks and lots of wildlife. Additionally, it has excellent facilities.
A simple walk to get to Russell Falls that is wheelchair accessible. The hike takes you through a fern forest which has some of Tasmania's tallest trees. During Winter, there is snowboarding and skiing.
3. Coles Bay
Set in a spectacular location with uninterrupted views of this pink and red granite peaks called The Hazards. Coles Bay is a little town with a couple of shops and cafes — do not miss the Tombolo! Restaurant and coffee bar for good coffee + wood-fired pizzas with magnificent views. A great place for a romantic destination wedding and offers a luxury accommodation for honeymoon couples.
Coles Bay is mostly called the gateway to Freycinet National Park.
4. Launceston Bay
Launceston is a fantastic base to explore a few excellent places near, and it is also the least expensive city to fly into from the Australian mainland. As soon as you've had breakfast in Fresh cafe, seen in City Park, the James Boags Brewery and completed the Saturday Harvest Market, the greatest nearby attraction is the beautiful Cataract Gorge.
5. Evandale
When you arrive at Evandale, you feel like time has been wound back 100 years. It is a National Trust classified Georgian village with unspoiled heritage buildings which makes it a favourite spot for tourists and readily accessible from Launceston. Clarendon House, just beyond the town, is reported to be one of Australia's most magnificent Georgian homes.
6. Salamanca Market
Salamanca Market is the most popular place to go to in Tasmania with 25,000 to 40,000 people visiting every weekend! It takes place on Saturday mornings until 3 pm. Salamanca Market is one of the unusual places where you meet the folks who create, make or grow what they sell. A superb place to get a souvenir, try some local food and soak up the atmosphere. The almost 300 stallholders include manufacturers of handmade Tasmanian bits from the woodwork to jewellery, fashion too fanciful antiques and antiques.
There are lots of surrounding parks and gardens that make a fantastic place for a picnic after choosing some food in the market or for your children to run around.
From the current market, it's a brief walk up historical Kelly's Steps to the Georgian cottages and ancient marine village setting of Battery Point.